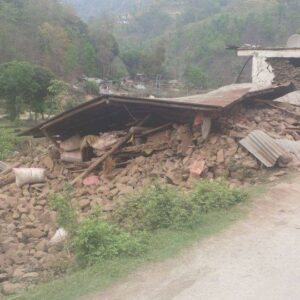 Do we need to wait for a life-alerting event before changing our beliefs in order to live in True Will?
The past two weeks I have been reflecting on this question, as my journey with my dear friend, and soul, Laura, keeps coming to mind. Previously I have witnessed Laura's uncertainty as she was faced with some of life's challenges, questioning how she should respond.
However, most recently, she lived though the devastating earthquake that occurred in Nepal.
According to a recent interview with Bruce Lipton, Ph.D., there is now evidence that supports the theory that beliefs can be changed through either, hypnosis, repetition / practices, energy psychology and shock from a life altering event.
This caused me to reflect on Laura's choice with conscious awareness practices that allowed her to access the courage to continue to live in True Will, during one of life's most shocking experiences.
A mutual friend of ours, Susan, introduced me to Laura early 2013. As Susan suspected, Laura and I had a lot in common and we identified an immediate soul connection. We both faced similar challenges, such as "daddy issues", "mother issues," and our repeated behavior of putting our needs and wants aside to support others. Yet, we were also working on going through a significant transformation, as our inner wisdom knew that our way of being was not serving us.
We would often talk until the early hours of the morning reflecting on our history. We shared how our repeated ways of being had finally brought us to our knees and how we had found the courage to ask daring questions of ourselves.
Through these conversations I identified that we had been "suffering for purpose," and needed to find a true way to find, "purpose in our suffering". We both knew that the beliefs of our heart's desire had to shift from saving others, to saving our own Self, so that we could be of true service to others. As a part of our journey in shifting our beliefs we were in deep exploration of Self, with our thoughts, behaviors and spoken words.
Laura was hard at work on her "Freedom on Ice" concept, inspired by a long-term desire to raise money for education for children in Nepal. I was hard at work on my "Dare to Ask" platform, with a long-term desire to eventually raise money for education for children in South Africa. Both advocates for children who have experienced emotional abuse, we knew the importance of providing education so that these children could understand that they do have a choice in their way of being in the world.
Despite our past business success, we both faced fears due to limited financial resources and were in the process of letting go of our external ego identities. We believed in our long-term success, but still feared the possibility of initial failure and/or unforeseen obstacles along the way.
Our challenge was to continue with our heartfelt desire in the spirit of True Will, while leaning into the discomfort of the unknown.
I left Toronto August 2013 and Laura and I kept in touch via Skype and Facebook. We shared our journeys of building and launching our platforms, as we have shared our challenges and even our tears.
Aware that we were both living more authentically, we acknowledged the challenge of starting projects of this size again in our late 40's, with limited resources. Often, laughing and crying at the same time, we both felt this transition was tougher than any other challenge we faced in earlier decades.
In December, I got a message from Laura saying that she would be heading to Nepal for a few months in early 2015. A house had been found near the village, Melamchi, where she wanted to continue her work and potentially adopt a school.
Plans for her departure were put in place. However, in early January Laura had to put her plans on hold as her daughter-in-law, who had cancer, took a turn for the worse. Laura stayed to support her son and grandson, and after a tough fight, the family was forced to say goodbye to Julia. Over this period, Laura shared her heartache and pain for her son and grandson with me.
In late March, Laura eventually left all the creature comforts of Western civilization and departed for Nepal. I watched her progress and joy unfold on Facebook, and saw the truth of her heart's desire unfolding. For me, it was a palatable and visceral experience of love. I could feel the life that Laura's presence was breathing into the community, as she worked to build her relationship with them.
And then, on April 25th, an earthquake with a 7.8-magnitude hit Nepal killing more than 8,000 people and leaving more than 19,000 injured. Hundreds of thousands were left homeless, entire villages were flattened and Laura was in the middle of it.
When chatting to Laura this week, she said "Jacqui I was in the jeep heading off to another village for a few days, and I saw buildings fall down all around me.
I saw houses go down, and thought, 'oh they are really old, they have just fallen down today.' Initially, I had no idea what was going on. I never considered that I might be in the middle of an earthquake. In fact, who expects an earthquake? I didn't."
But it didn't take long for Laura to realize the truth. As people started to panic and run for safety, she joined them.
Laura then confessed, "At no time was I thinking that there might be an earthquake up the road where my Tibetan family lived, only five minutes away."
While running up the road, Laura received the news that everyone from the house was okay.
"Jacqui," she said, "suddenly I see that there wasn't a house. Our entire village was flattened. Then Dave shouted to us that we should start running up the hill. So, there we were, running though rice paddies that have just had water released. We were running in twelve inches of mud – not really knowing what we were doing. It was terrifying.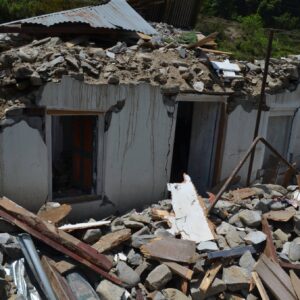 I realized then that we had no control and that we could all be dead. Our thought was to go to the most open space possible, so that we could see if there were boulders coming down the mountain or collapsing power lines. Our survival mode kicked in and our instinct was that we had the best chance of survival in an open space."
Quickly, Laura realized that they needed to get supplies. "My first thought was that we needed to get water to survive. I had protein shakes so I knew we would be okay for food. I had money so I knew it was up to me to buy supplies for our immediate group. This included the people in our house and neighbors. People I had spent the last month with.
My son, Mark, and David started to construct a lean-to as we knew that we would need shelter. That first night we huddled together tightly underneath the lean-to and jolted up with every aftershock not knowing if we should sit tight or run. It was scary and we knew we had to survive the night. It was nice to see the morning sun come up."
Soon Laura noticed that people started to immediately build new homes and not just temporary structures. They continued to live in True Will with the truth of what was in front of them.
Then Laura shared the painful pull between wanting to stay behind and help and wanting to run back to Toronto.
She said, "Living underneath a tarp with 40 other people caused me to sense fear, starvation and disease and made me want to get out of there. Also, I realized that there was nothing that I could do in Nepal that the people of the country could not do themselves. More importantly, the limited resources needed to be shared between them. So I secured a plane ticket. However, I also wanted to hike back to the village and see my boys and girls from the school. I was told that there was no guarantee that I would leave just because I had secured a ticket. So, I made the decision that if my plane did not get out of there on Saturday then I would stay."
In truth, Laura let go of her fear by simply acknowledging it. Here she found the courage to know that it was not up to her, but in the hands of the universe.
Back at work in Toronto, Laura is grateful for all of her truth and is still determined to bring about change with "Freedom on Ice". Laura is even more inspired to continue with her cause and bring education to the children in Nepal.
When I recently spoke with her she said, "Jacqui, now my job is to get the school rebuilt, so I need to hustle for money to make that happen. We need to build this school again and give these people hope, after we get rice in their stomachs. The government does not really care much for schooling in this area, so I must see to it that this school is rebuilt. "
Over the past two years of knowing this courageous woman, I have witnessed her transformation from being stuck in the questions of, "Why?" when facing some of life challenges. However, when living through one of life's largest earthquakes, not once during this chaos have I heard Laura complain, blame or ask, "Why me?"
Laura is living proof of the ability to choose to change one's beliefs with practices of consciousness. This has allowed her to live with the flow of life as it presented itself, moment-by-moment, in truth no matter the chaos. In this open space of connection with all others and the universe, Laura is living second-by-second in the presence of love and acceptance.
When I met Laura two years ago she had committed to honoring her choices and her practices to get to this open space of love. In connecting with like-minded souls, and seeking purpose, she has continued to ask daring questions, and find safety and comfort in the open spaces of the unknown – unafraid of change.
Laura glowed as she said, "Jacqui, plans change so quickly, everything changes so quickly. I am happy to have Nepal in my life. I am happy that Nepal has me in its life. I have no intention of saying goodbye. My vision is clearer than ever."
Laura is living proof that no matter the terrifying reality of change or the unknown, keeping an open heart for all that might be possible in a moment, is the safest place for Self.
The work of the heart of one soul is alive and real.
Laura is an example of waking up to Self by choice, we are more available to serve others, especially when hit with life-altering shocks.
Should you feel inspired to support or donate:
Laura is seeking volunteers, in Toronto, with skilled and un-skilled input and advice to bring "Freedom on Ice" to a being a sustainable charity. Laura Levtov can be contacted on madoc.ont@gmail.com should you wish to support her dream.
Financial donations for immediate emergency supplies of food and medicine for the village of Malmachi can be sent to The Children of the Earth Foundation at http://www.cotef.org/contact-us/support-us/donations (Please reference "Village Malmachi" with your payment).
Laura would like to extend love and thanks to Mark, Dave, Sandhya and Nina from Children of the Earth.
Click to submit your Dare to Ask Question or Personal Story
Warm love and regards Jacqui
Perfectly Imperfect Author and Speaker, Spiritual Revolutionary and Warrior of Self.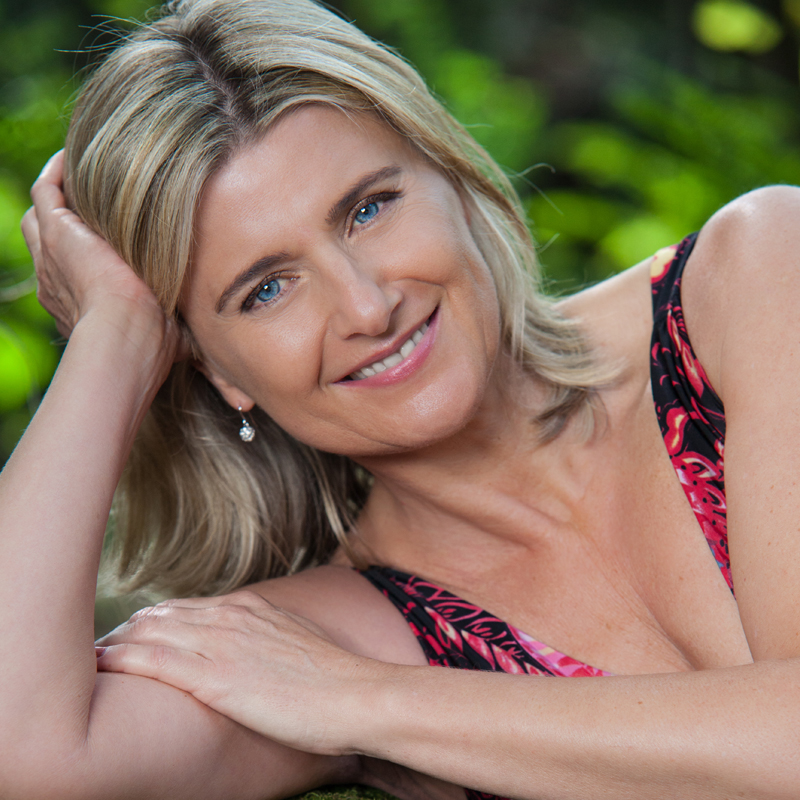 As a Spiritual Revolutionary, Jacqui Burnett Dares you to reboot your Spirit, to awaken your body, mind and soul, to Be Love in all that you Believe, Think, Say and Do.
View Full Biography