Love and Pain, an uncomfortable combination!
That said, I recently stumbled upon a young man consciously choosing pain, because of his Love for a cause. The vulnerable strength he showed, opened me and others around him to Love.

Let me share the story…..
A few weeks ago, a friend invited a group of us to join him to celebrate his 50th birthday on a one day hike.
This was no ordinary one day hike. Our aim: to summit 5 peaks over 11 miles (18 kilometers), with a total altitude gain of 3,116 feet (950 meters), while climbing 7,500 feet (2285 meters) as we made our way up and down the peaks. The Big5Hike is in the Drakensburg Mountains and is organized in aid of a charity.
About a mile into the hike I noticed a young man in our group walking without shoes. My first thought was, "How ridiculous! What is wrong with this young man, how irresponsible to be doing this hike without shoes." A JUDGEMENT!
Conscious of my judgmental thought I was able to remind myself: "Jacqui how unkind and judgmental, let it go and open to Love."
A while later I heard someone ask this young man, "Travis how are your feet doing?"
Travis answered, "9 out of 10."
I paid no further attention until we were sitting on some rocks at Summit 3, taking a break. From behind me, I heard Travis's voice saying, "7 out of 10."
I turned to see that Travis and I were sitting back to back, and now I observed him silently taking a photo of his feet. This made me curious.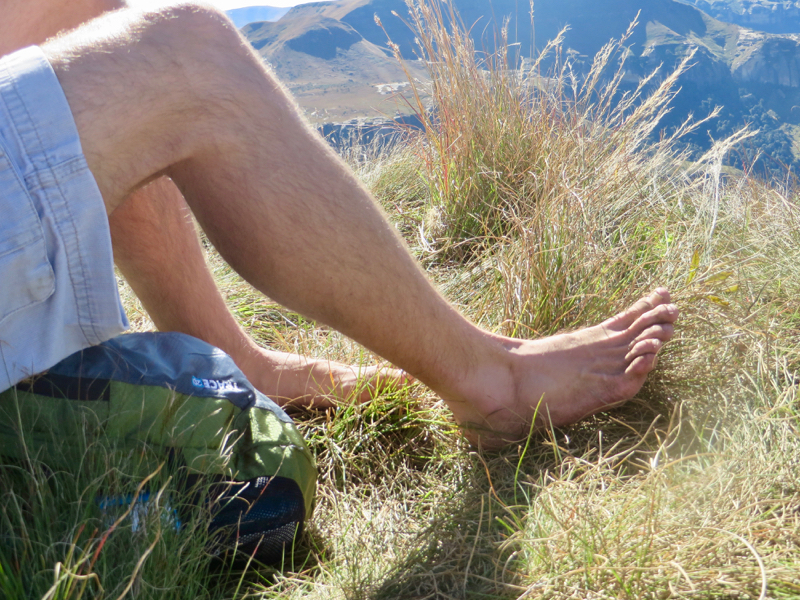 "Why are you walking barefoot?" I asked him.
This gentle-hearted strong young man looked back at me and said, "To bring awareness to the fact that most kids in this rural area don't have shoes."
Well for those of you who know me, in that moment of Love presenting, I fell in Love with this courageous human being and also knew that I hadn't BEEN LOVE when I first set eyes on young Travis. If he wasn't a stranger, I would have hugged him and stood on that mountaintop shouting out his name to the world so that we could celebrate him, his cause, his truth and his ability to Be Love.
As the day progressed I would hear the question coming again and again, "Travis, how are your feet?"
And each time Travis would reply, his voice unwavering despite the increasingly painful condition of his feet, sharing the decline in a matter-of-fact way from 6 to 5 to 4 to 3 to 2 to …
For the rest of that hike I found myself reflecting on how one of my most inspiring teachers, Marina Illich, had challenged me in the first week we met while I was studying in San Francisco, by saying, "Jacqui, there is enormous strength in vulnerability."
This strength in vulnerability is what I was witnessing in Travis. As I walked for a further 6 hours I could use the Love that Travis was sending out into the world as fuel for working through my own pain story that I was processing at this time. I found strength to be vulnerable, and yet again open to Love despite all I have done to hurt myself and others, and to send love to all others I perceive to have hurt me.
That night I spoke to Travis at dinner and for the first time I asked him the same question everyone else had that day.
"Travis, how are your feet?"
Travis just smiled and said, "They are raw with blisters, but I am strong enough to still walk."
I asked Travis for his details as I knew then that I wanted to share his story. Travis took time to write to me this week. This is part of what he shared. I trust you will find it as inspiring as I did, due to its simple intention to Be LOVE!
"Well it all began in 2014 when I was still working at the Cavern Drakensberg Resort. I worked with a lady called Kayley and we used to hike and go on adventures pretty much every day. One day we decided to do a walk barefoot just to shake things up a bit. 
The walk we were doing was an easy one, but doing it without shoes made it a lot harder than we thought it would be. 
As we were walking, we got to talking about people without shoes and what it must be like as they go about their day. That is how it all started. Nothing came of it until last year (2016) when the Big Five Hike came around where I wanted to do the hike barefoot, but I didn't manage to follow through with it then. 
So this year, was the year to finally do the hike barefoot.
The reason behind it was in part a personal achievement… a tick on the old bucket list if you will. 
Since the hike was about raising money for Royal Drakensberg Primary School, I wanted to make it less about me and more about the kids – two birds with one stone. So, I decided to try make a difference by donating shoes. I couldn't have done it on my own so I asked around and found a lady who was more than happy to donate 100 pairs of shoes to my cause."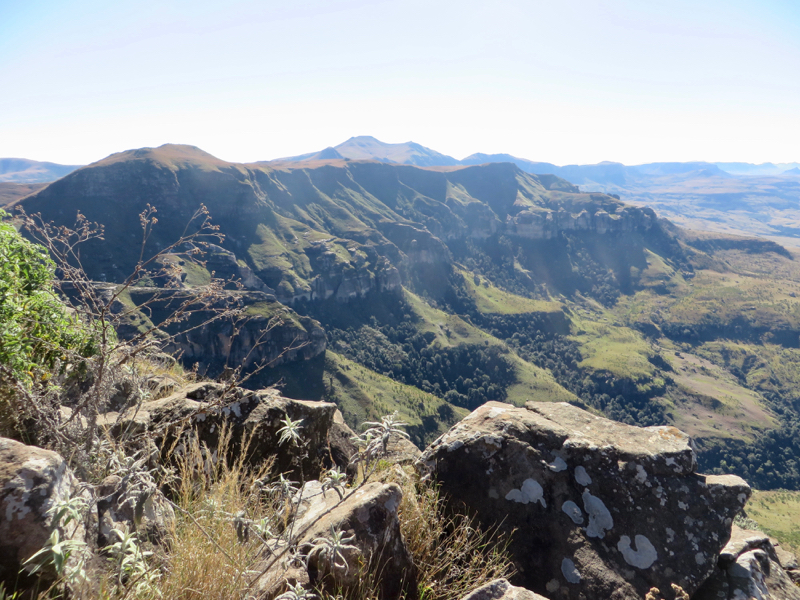 Travis could have simply found a way to donate 100 pairs of shoes and leave it at that. But he didn't. Instead, he chose to willingly experience the pain of what it might feel like to walk barefoot over harsh African terrain.
It was in this young man's courage to show and share his pain, that Love arrived along the way, as more and more of us wanted to see Travis accomplish the grueling task he'd set himself.
Travis, thank you. Marina, thank you. Your Spirit and teachings remain within me.
The Universe is wise and sends us the teaching we need, in the moment we need to see it. Through my vulnerable strength to be conscious of my initial unkind and judgmental belief about Travis, I could once again wake up to Be Love.
It remains our task to see our own limiting belief so that we can let go of the unkind / judgmental narrative that runs through our society, and therefore ourselves. For it is in the act of seeing and accepting ourselves that we can see and accept all others and open to Being Love.
Until we meet again stay courageous and vulnerable as you continue to open to your individual Spirit of love, moment by moment, over and over again.
For the journey of life is simple: It's the moment to moment choice to Be Love, or not!
Warm love to you all, always
Jacqui
Donations to the Drakenburg Primary School can be made by clicking here for payments, or click here to enquire further about donations.
To read the inspiring story about this fabulous little school, click here.
To find out more about the Big5Hike, email Megan Bedingham on [email protected].